Description
Davey Powermaster Eco-Series 3 Speed Pool Pump. Cheap Freight Australia Wide.
This spectacular swimming pool pump comes with 8 Star energy efficiency rating!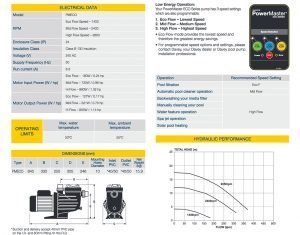 The premium Davey Power Master® ECO-Series range is specifically designed to circulate swimming pool water for filtration and in-floor cleaning applications. Variable three speed motor allows very high efficiency.
Why Choose a Davey Powermaster Pool Pump?
At Flow speed (2850rpm) the flow rate is 350 litres per minute
At Mid range speed (2400rpm) the flow rate is 275 litres per minute
Eco Flow speed (1400rpm) the flow rate is 133 litres per minute
All the above figures are at a five meter head.
To get the full advantage of the Davey PM-ECO pump, the sand filter should be 28 inch or larger with the capability to handle a flow rate of 350 litres per minute or greater
Cartridge filter should be a 100 square foot or larger.
Easy Three speed control for efficient use all year round!
No battery backup required.
Low Emissions – Comes with an 8 Star energy efficiency rating, with super low emissions and lower power usage.
Lower noise Levels – Quiet noise levels of as only 60.5db allowing you to run your pump at any time of the day or night.
Davey Dependability built in – using the latest brush-less DC mot or technology, the PowerMaster ECO offers the dependability you have have come to expect from Davey Products!
3-Year Guarantee – The peace of mind from an Australian designed and engineered pool pump.